Pearish nips Pursley in USRA Modifieds, Yeoman best in USRA B-Mods at Springfield
November 3, 2012 | by Ronnie Williams
SPRINGFIELD, Mo. -- The Springfield Raceway was back in action Saturday night as the 11th annual Home Pro Larry Phillips Memorial was held with 160 race teams checking in to help pay honor to the legendary driver.

In USRA Modified action it was a photo finish in the 20-lap feature as Bobby Pearish grabbed the narrow win over Jason Pursley.

Pursley redrew the pole spot with Pearish on his outside. Pursley the veteran Modified driver from Wheatland took the opening lead as caution flew after one lap for Brian Green and Kyle Slagle. On the restart, Pursley stayed down as Pearish rode the top groove while Central Missouri Modified standout Terry Schultz grabbed third spot.

Pearish was slowly pulling away from Pursley during the long green flag run, but In the closing three laps, Pursley closed the gap to almost nothing making a strong surge on the final lap and just coming up a bumper short. Following the lead duo to the stripe was Schultz, 2012 USRA track champion Jackie Dalton and Terry Kirk as 19 of the 20 starters finished on the lead lap.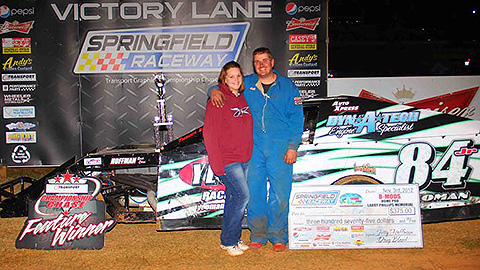 USRA B-Mod action saw Jon Yeoman Jr. grab the opening lead from Kaleb Copher and then had to withstand several challenges from hard charging Rex Merritt in taking the hard earned win.

Copher earned the pole for the night as Yeoman flanked him on the outside followed by Shawn Strong. Strong's bid for a win ended early as he spun in turn 1 on a restart on lap 5.

Yeoman saw his lead over the field get smaller as Merritt, making his B-Mod debut, charged from seventh to second by lap 6 following two caution periods. Yeoman, had a bumper full of Merritt for the final five laps as Merritt tried several passes inside and outside.

Following Yeoman and Merritt to the stripe were Copher, Rusty Forrest and West Plains champion J.C. Morton while B-Main transfers Michael Maggard, J.D. Kelley and 2011 champion Bobby Maggard Jr. along with Logan Martin and Midwest champion Trevor Drake filled the top 10 with 17 of the 20 starters finishing on the lead lap.

Up next at Springfield Raceway is the 6th annual KMJ Performance Turkey Bowl VI Presented by Dirt Works Race Cars on Saturday, Nov. 17, featuring Late Models battling for $2,000 to win and $350 to start, USRA Modifieds (with no spoilers) going for $1,200 to win and $450 to start, USRA B-Mods competing for $850 to win and $110 to start and Legends racing for $300 to win and $35 to start.

Pit gates will open at 10:30 a.m. with hot laps at 1 p.m. and racing at 3 p.m. Pit passes will be $35 with car entry fees $100 for both Late Models and Modifieds and $40 for B-Mods. Grandstands will open around 1 p.m.

For more information visit www.springfieldraceway.com or call 417-673-7426.

= = = = = = = = = = = = = = =

OFFICIAL RESULTS
American Racer USRA Weekly Racing Series
Springfield Raceway, Springfield, Mo.
Saturday, Nov. 3, 2012

USRA MODIFIEDS

A Feature: 1. Bobby Pearish, 2. Jason Pursley, 3. Terry Schultz, 4. Jackie Dalton, 5. Terry Kirk, 6. Robbie Bryant, 7. Mitch Keeter, 8. Logan Martin, 9. John Yeoman, 10. Jerry Lankton, 11. Rusty Griffaw, 12. Shawn Nations, 13. Brian Green, 14. Nick Whitehead, 15. Joey Smith, 16. Jeff James, 17. Kyle Slagle, 18. Rob Muilenburg, 19. Randy Henson, 20. Andy Aust.

1st B Feature (top 4 advance): 1. Martin, 2. Muilenburg, 3. Aust, 4. Slagle, 5. Chris Tonoli, 6. Eric Lampe, DNS - Mickey Burrell, Steve McLaughlin.

2nd B Feature (top 4 advance): 1. Nations, 2. Green, 3. Henson, 4. Whitehead, 5. Scott Symmonds, 6. Jim Body, 7. John Fellers, DNS - Jody Tillman.

USRA B-MODS

A Feature: 1. Jon Yeoman Jr., 2. Rex Merritt, 3. Kaleb Copher, 4. Rusty Forrest, 5. J.C. Morton, 6. Michael Maggard, 7. J.D. Kelley, 8. Bobby Maggard Jr., 9. Logan Martin, 10. Trevor Drake, 11. Shawn Strong, 12. Gary Clark, 13. Jeff Frohwitter, 14. Darrin Crisler, 15. Don Luna, 16. Bobby Ratterree, 17. Mike Watson, 18. Robert Baltzell, 19. Mike Striegel, DNS - Taylor Duggins.

1st B Feature (top 4 advance): 1. Maggard Jr., 2. Martin, 3. Luna, 4. Crisler, 5. Daniel Anders, 6. Bill Schaar, 7. Greg Strong, 8. Brian Myers, 9. Tony Myers, 10. Mike Mansker, 11. Tim Copland, DNS - Chuck Bumgarner.

2nd B Feature (top 4 advance): 1. M. Maggard, 2. Kelley, 3. Frohwitter, 4. Duggins, 5. T.R. Phillips, 6. Tony Fincher, 7. Don Randall, 8. Dylan Timmerman, DQ - Kaleb Stolba, Mike Smith, DNS - John Hurn, Michael Page.