Muilenburg's 12th consecutive track championship at North Central Arkansas Speedway one for the ages
YELLVILLE, Ark. -- How hard is it to win a championship?
If you ask anyone who has ever competed — be they participants or those on the sidelines — the answer you get will be some variation of the same thing.
Whatever the competition and whatever the competition level, they all agree that winning a championship is the hardest feat to accomplish in their respective sport. When pressed, they will next tell you that the only thing harder than winning the first championship is winning the next one.
Now picture winning that 'next one' 11 more times – all in a row.
That's the feat that 57-year-old Rob Muilenburg of Sparta, Mo., accomplished this past season in winning his 12th consecutive USRA Modified track championship at the North Central Arkansas Speedway in 2012.
"They all feel good," Muilenburg said. "I don't race unless I think I can win, and if I don't win, then after the race, I step back and see what went wrong."
Muilenburg began racing at the North Central Arkansas Speedway in the Modified division in 1997, and in his fourth full season at the speedway found himself in the runner-up position to the track champion in 2000. Believing that the championship was within reach, he was excited to get the 2001 season started, not knowing that it would be the starting point of an incredible run of championship seasons.
Driving a DirtWorks chassis, Muilenburg ticked off multiple victories every year en route to 11 straight track championship seasons.
As his competitors stepped up their performance with new equipment, Muilenburg was also forced to improve his program to stay on top. As the 2012 race season approached, he purchased a brand new Hoffman chassis, knowing that the competition at the track was getting more intense every season and that 2012 could provide his toughest challenge yet.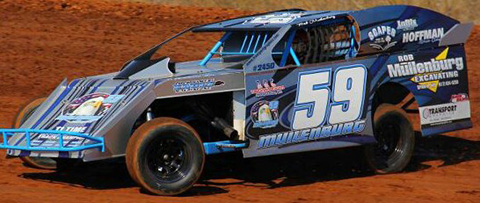 He's just like many drivers who race their local dirt track. He is primarily self-sponsored, so the decision to buy a new chassis wasn't taken lightly, but he knew he needed the best equipment that he could get to have the best chance to win each week.
In order to make it to NCAS each week, Muilenburg gets up at five in the morning, works into the early afternoon before heading home and to the shop where he has to have everything ready around four o'clock in the afternoon to leave for the track.
"We race two nights a week and work on the car the other five," Muilenburg said. "I've had my arm broken, my back messed up and I've been knocked out a time or two ... I've seen a lot."
Muilenburg says he works all week on the car, fixing whatever needs fixed and adjusting everything that might be necessary with the expectation that he will win each time he hits the track.
On those nights that he isn't able to work his way to victory lane, the two-hours-plus drive back home is filled with a mental debriefing of sorts, going over the things he might need to adjust or work on before hitting the track again the following week.
With a new ride underneath him for 2012, he struggled early on to find the right balance on the car and said the early learning curve on the chassis was extremely steep.
It took seven weeks of racing the new car before was able to win his first feature event of the year. But winning a championship requires more than wins. Consistency is the key, he says, along with the ability to get everything out of the car and the track on any given race night.
Of the 21 races in 2012, Muilenburg took home four wins, three second-place finishes and five third-place finishes, with an averaging finishing position for the year of 3.4.
He was also one of only two drivers to start each feature race of the season.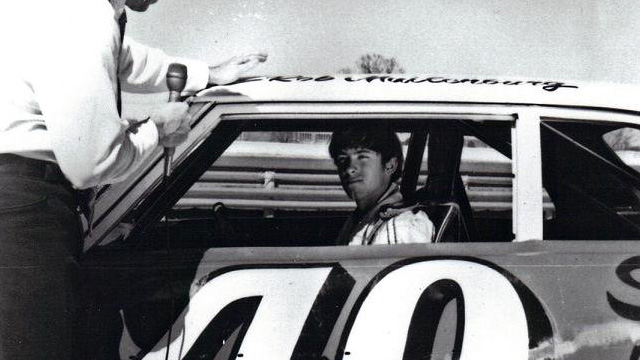 Muilenburg was named rookie of the year for his 1974 season in Springfield, Mo.
One of the things that he says he is most proud of is the fact that as his championship streak grew, more and more drivers compared their own performance to his on a weekly basis, and with them doing that the 2012 competition level was the toughest season he had ever faced at NCAS.
With several drivers on the track on any given night using him as a competitive yardstick, Muilenburg knows that each race starts with him having a bulls-eye of sorts on his car and that the other drivers will always try just that little bit harder to beat him because of his reputation.
When asked about his favorite part of 2012, Muilenburg's response was something many have heard him say many times: that it's not so much a favorite time, it is the entire time he spends at the track; that he truly enjoys the fans and his fellow racers every time he drives into the facility.
"I like racing there beacuse it is more relaxed. At other places it's more business," Muilenburg said. "(At North Arkansas Central Speedway) there's just a good group of people, and everybody speaks to one another."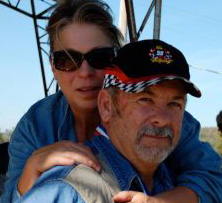 Rob often only brings his wife, Jody, to the track with him, so when he has a problem like a flat tire he has to rely on the help of those in the pits to get him back on track. That help is something that many in the pit area are willing to provide because of Rob's willingness to help others around him when he can on any given night.
Over his career, Muilenburg has won more than 200 trophies and plaques, which his wife has displayed in the guest house at their home in Sparta.
When asked if he was going to chase championship number 13 in 2013, Muilenburg said only that nothing had been finalized regarding his plans in the upcoming race season, but that if he did try to extend his streak and get that 'next one,' everyone would once again have to set their sights on him as the man to beat.