WEST PLAINS, Mo. -- This past Friday and Saturday, July 5-6, the West Plains Motor Speedway held it's 24th Annual Burton Creek Pharmacy Firecracker Classic. The weekend was definitely explosive as 112 cars turned out Friday and 107 Saturday to give the almost 3,000 race fans that attended throughout the weekend a taste of the hottest racing action on dirt.
Fans not only felt the rumble of the race engines, but also the rattle of their seats with the Ssectacular Hirsch Feed & Farm Supply fireworks show that many are calling the best fireworks show in the Ozarks. Fans also won hundreds of prizes from shirts to hats and even cold hard cash.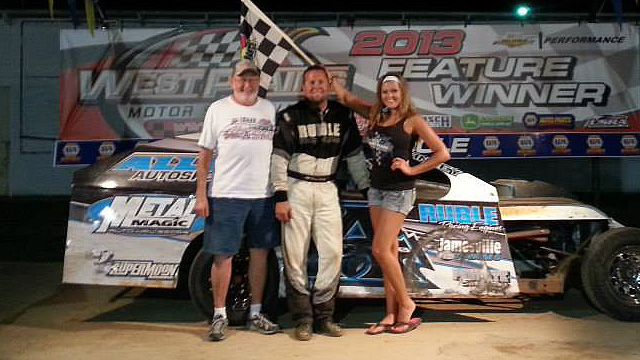 West Plains Motor Speedway would like to thank everyone that attended, all the racers, race sponsor Burton Creek Pharmacy and fireworks sponsor Hirsch Feed & Farm Supply for making this year's Firecracker Classic 5000 ... a huge success and great time for all.
=====================
OFFICIAL RESULTS
USRA Weekly Racing Series
West Plains Motor Speedway, West Plains, Mo.
Saturday, July 6, 2013
USRA B-MODS
Feature:
1. (4) 14S Shawn Strong, Billings
2. (3) 24T Toby Thompson, Mountain Grove
3. (5) 51H Josh Hughes
4. (7) 36M Logan Martin, West Plains
5. (11) WD40 Wayne Degase, Squires
6. (12) 12H Blake Horton, Koshkonong
7. (14) 11 Dustin Shaw, Birch Tree
8. (6) 13 Chris Piper, West Plains
9. (15) 15D Tyler Duggins, West Plains
10. (13) 24 Charlie Grissum, Mountain Home
11. (1) 24B Jason Brigman, West Plains
12. (2) 68 Craig Mintz, Humboldt , Kan.
13. (10) 7 Taylor Duggins, West Plains
14. (8) 20R Bobby Ratterree, Mountain Grove
15. (9) 129 Lance Stillings, Ava
USRA MODIFIEDS
Feature:
1. (1) 7H Greg Hughes, West Plains
2. (2) 12 Scott Crigler, Alton
3. (3) 36M Logan Martin, West Plains
4. (6) 2 Charlie Cole, Wynne, Ark.
5. (4) 44 Rustin Miller, West Plains
6. (8) 21F Robby Arnold, Paragould, Ark.
7. (5) 2M Carl Murphy, Caulfied
8. (13) 9 Brint Hartwick, Quitman, Ark.
9. (10) 10 Lonnie Judd, Caulfield
10. (12) 17 Chadd Avey, Heber Springs, Ark.
11. (9) 5 Jordan Turner
12. (11) 1 Joey Smith, Pomona
13. (7) 14N Justin Neuman, Crocker