LANSING, Minn. -- The weather was perfect for R&S Racing Supply and Auto Value of Austin and Albert Lea night at Chateau Raceway. The kids participated in the second and final candy drop at intermission and set the stage for some great feature races.
The L&D Ag USRA B-Mod feature took two attempts to get started. Once the green flew it stayed out until the final lap. Justin McMahan took off from row one while Josh Mattick got to second and Kylie Kath was third. Mark Motl and Scott Demmer both snuck past John Warrington and were in the top five.
Mattick challenged McMahan for the lead on lap five while Demmer skated to fourth. Mattick made the pass for the lead on lap seven, but McMahan drove right back by as Kylie Kath made it a three-car battle. Mattick got back out front with McMahan, Kath and Demmer three wide for second.
Kath took the runner up spot and Demmer hung right with him in third. Mattick took off but Demmer tried to make a move on Kath on the final lap as they came up on the lapped car of Tanner Johnston. Johnston got loose and Demmer had no place to and blasted into Johnston. The yellow came out Demmer was able to continue and got his position back. This incident set up a green, white, checkered dash.
Mattick took off for his second win this season, Kath finished in second with Demmer third. Mark Motl was fourth in his first appearance this season and Jesse Baer raced from 16th to fifth.
The Frenchís Repair and Fabrication USRA Modifieds had some added drama tonight. All season the Brew Pub Pizza Challenge had been offered to the front row starters. They had the option to start at the back of the pack and try to win from there. If they won they received the bonus plus the $600 feature winnerís purse. It started at $500 and up until this week no driver had even attempted the challenge, but that changed tonight.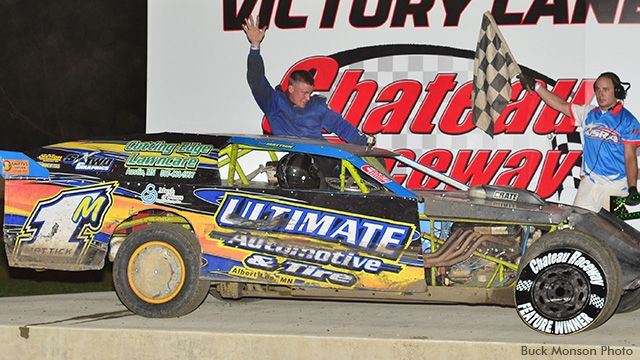 With the bonus up to a whopping $1,300, it was announced that if 16 or more cars were on hand, the heat winners along with the front row starters would have the opportunity to race for the bonus. Keith Foss won the first heat and opted to attempt the challenge. Then second heat race winner Brandon Davis also accepted the offer.
Doug Hillson and Tyler Clark opted to keep their front row spots while Foss fell back to 14th and Davis to 15th as the field formed up for their 25-lap race. Hillson led, but Clark drove by on the top side to take the lead. Darwyn Karau came up and battled with Hillson for second. A yellow for debris on lap four slowed things down while Foss was up to seventh and Davis was ninth.
Todd Scharkey stormed from fourth to second on the top groove as Foss cracked the top five and Davis was now seventh. Clark led but slowed suddenly to trigger a caution on lap seven. This set up a wild restart as the pack really got cranked up.
The green returned and Tim Donlinger flew to second as Foss was up to third and Davis fourth and it appeared the big bonus was in trouble. Davis blew to the top shelf and snuck past Foss for third on lap 11. One circuit later, Davis shot past Donlinger for second. Davis reeled in Scharkey and was side-by-side with the leader when the caution came out as Joe Horgdal and Doug Hillson collided.
It was an unfortunate yellow for Davis as Scharkey now saw the preferred line. On the restart, Scharkey went to the top and while Davis stayed close to the leader, he could not make the pass. Scharkey won and thus the bonus will go to $1,400 on Aug. 2. Davis gave the crowd a show to finish second with Tommy Myer third. Fossí great run ended in fourth while Donlinger was fifth.
There is no racing next Friday, July 26. Racing will return on Friday, Aug. 2 with the Gold Rush for the kids. Hopefully somebody will again take a shot at the Brew Pub bonus.
=====================
OFFICIAL RESULTS
USRA Weekly Racing Series
Chateau Raceway
Friday, July 19, 2013
USRA MODIFIEDS
Feature: Todd Scharkey, Brandon Davis, Tommy Myer, Keith Foss, Tim Donlinger, Darwyn Karau, Craig Shaw, Doug Hillson, Greg Jensen, Joe Horgdal, Jeremy Misgen, Jim King, Joe Wernecke, Robbie Franklin, Tyler Clark, Jacob Dahle.
Heat #1: Foss, Scharkey, Franklin, Horgdal, Shaw, King.
Heat #2: Davis, Myer, Donlingerm Karau, Dahle.
Heat #3: Jensen, Hillson, Clark, Wernecke, Misgen.
USRA B-MODS
Feature: Josh Mattick, Kylie Kath, Scott Demmer, Mark Motl, Jesse Baer, Kadden Kath, Justin McMahan, Steven Amundson, John Warrington, Terry Kohnert, A.J. Zvorak, Taylor Ovrebo, Adam Ackerman, Rick Utley, Mark Wytaske, Tanner Johnston, Jaiden Bastyr, Charlie Steinberg.
Heat #1: Mattick, Kylie Kath, Ackerman, Zvorak, Johnston, Wytaske.
Heat #2: Motl, Amundson, McMahan, Steinberg, Ovrebo, Bastyr.
Heat #3: Demmer, Kohnert, Warrington, Utley, Kadden Kath.